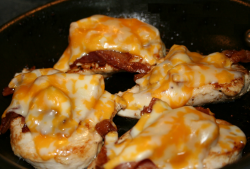 You'll be the talk of your friends and family when you serve them this delicious dish. A quick and easy recipe that is sure to delight.
Ingredients
4 boneless skinless chicken breasts, pounded to 1/2 inch thickness
seasoning salt
6 slices bacon, cut in half
1/4 cup mustard
1/3 cup honey
2 tablespoons mayo
1/2 tablespoon dried onion flakes
1 tablespoon cooking oil
1 cup sliced fresh mushrooms
2 cups shredded Colby/Jack cheese
Directions
Sprinkle and rub the chicken breasts with seasoning salt.  Cover and refrigerate for 30 minutes.
Cook bacon in a large skillet until crisp.
In a small bowl, mix the mustard, honey, mayo and dried onion flakes.
Heat oil in a large skillet over medium heat.  Place chicken in the skillet and saute for 3 to 5 minutes per side, or until browned.
Place Flour Girl Kitchen silicon baking mat inside an 11×7 inch or 9×9 inch pan (it's okay if mat is larger than pan, just push it down so it touches the bottom all the way around).
Move chicken to lined pan.
Apply the honey mustard to each breast, then layer with mushrooms, bacon, and shredded cheese.
Bake in a 350° oven for 20-25 minutes, or until cheese is melted and chicken is done.
Remove from oven and serve.
Clean up is easy. When finished remove baking mat from pan and wash/rinse or put in dishwasher. Your baking pan should be completely clean.